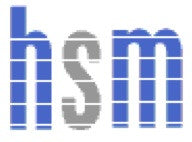 HeSheMusic
Gridlock (1994) - Dan Becker
for 10 instruments
Premiered June, 1994 - Hartford, CT & New York, NY;
Performed by the Common Sense Ensemble
This item is for rental only. To purchase a study score, proceed to checkout. To get information about rentals, please email: info@heshemusic.com
Read Kyle Gann's thought's on the work here: http://www.artsjournal.com/postclassic/2015/12/the-perennial-fiction-of-nature.html
Composer's Note:
Do men and women write music differently? Are there fundamentally different ways that each gender explores the world around them? Put me with another composer and a
pitcher of beer and I can bat these ideas around with the best of them. One such discussion resulted in the notion that men are much more likely to understand the natural
world by slapping a grid over it in order to break it up into tiny parts: approaching it from the outside in. Mapping it. Women however, it was proposed, are much more
likely to get inside the natural world and pull something out from it: Excavate. Unearth.

Ouch. One of the implications of this -- if taken to its inevitable conclusion -- is that my hard-wired patriarchal male brain, along with my long time love of maps and grids,
has contributed to the destruction of the natural world. Quite a load. After realizing I was stuck with the brain I had, I decided to do what I usually do in a no-win situation: try and turn a detriment into an attribute by wearing it like a badge of honor. My piece Gridlock takes the idea of grids and runs away with it. Magnifies it. Downright celebrates it.
---
Share this Product
---
More from this collection