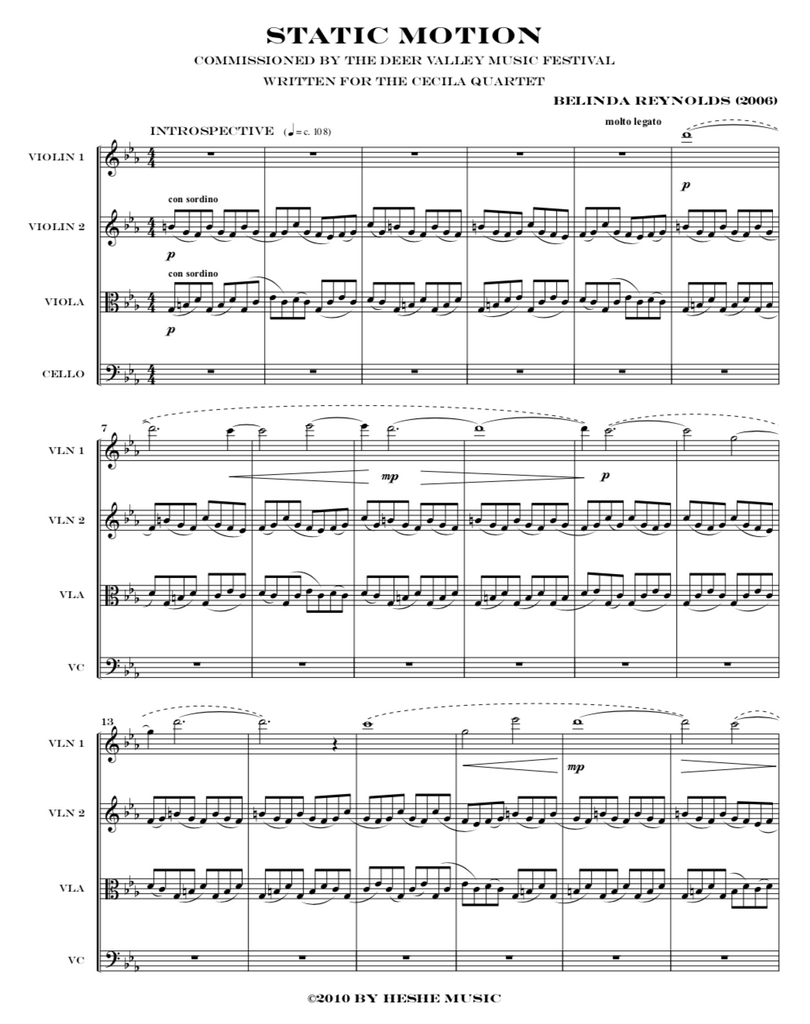 HeSheMusic
Static Motion (2006) - Belinda Reynolds
for string quartet
Commissioned by Deer Valley Music Festival;
Premiered July 2007 - Park City, UT
Static Motion, is a one movement work for string quartet, commissioned by the Deer Valley Music Festival and written for the Cecila Quartet.
The title of the piece refers to the unique way I tried to play with the balance of a shifting rhythmic and melodic structure against a seemingly still/slow harmonic pace. Static Motion rests on two chord progressions, one going from the key of c minor to G Major, the other focusing on moving from c minor to f minor. The only note that differs between these two harmonic worlds is the pitch Bb. It is that note that I use as an 'axis' from which to explore how can I create tension and motion in the piece within this 'static' tonal world.
For the 'motion' of the work. I rely on the interplay of the opening melody and rhythmic accompaniment to propel the music into different textures and statements of the chord progression. These shifts create different listening contexts for the harmonies, thus taking the ear away from the traditional way we hear the tonal chord progressions I use.
Special thanks goes to Joan Tower and the Muir String Quartet for giving me this wonderful opportunity to compose a piece for such outstanding players. I also with to thank Premiere Resorts and the Utah Opera and Symphony for their sponsorship of this commission. Finally, I wish to express my gratitude to composer Dan Becker for giving me his ear and his patience as I wrote this piece!
Approx. Duration: 12'
---
Share this Product
---
More from this collection